Learn about RB9 in weekly lessons
RB9 is a big program with 130 functions to cover all areas of the unique business that is court reporting management. And those many functions have multiple features/capabilities, so it's hard for anyone to know everything RB9 can do for their business. Sign up for free weekly email lessons to learn about what you can do with RB9.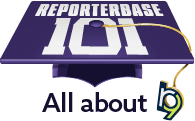 Subscribe to weekly email lessons
Fill out and submit this form to have a ReporterBase 101 lesson emailed to you each week.
Lessons on modules, functions, & concepts
ReporterBase 101 covers RB9's modules, each module's functions, and RB9 concepts in individual lessons. Weekly email lessons cover a single module, function, or concept so you can expand your RB9 knowledge without a lot of effort. We won't share your email address with anyone else, and you can cancel your email lessons anytime.
You don't have to be an RB user to sign up for the weekly lessons. If you have an interest in learning about RB9, you can find out all about it without getting into the step-by-step process of learning how to use it.
ReporterBase 101 does not tell you how to use RB9. Refer to the contextual, interactive user guide within RB9 and the Help Center to learn how to use RB9. Instead, ReporterBase 101 explains how RB9 works and why you would use each of the functions in it.
2 ways to learn: weekly emails or online
In addition to weekly email lessons, you can also read all lessons online in the RB9 Primer. All functions, plug-ins and concepts are covered in individual lessons. There is also a glossary that defines unique RB9 terms, such as contact and resource.
Whether online or via email, the new ReporterBase 101 is aimed at helping you get the most out of RB9. Sign up or visit today.